Kiwi Nguyen, Co-Chair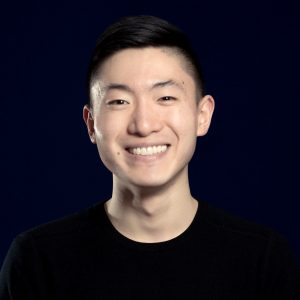 Ty Matsunaga, Co-Chair
Native New Yorker and Tokyoite, Ty joined GAPIMNY in 2017. Touched by the eye-opening space the organization fosters, he is excited to play a supporting role in empowering the Steering Committee and QTAPI community at large. You can often find him highly caffeinated at cute coffee shops, the movies, the swimming pool, or at Japanese restaurants.
Kevin Chen, Communications Chair
Kevin joined GAPIMNY in 2016. He grew up in the good ol' Hudson Valley before moving to the NYC area after college. He enjoys learning languages (10 and counting), running, sourdough baking, and songwriting. He works at Squarespace as a senior software engineer, and is the chairperson for the Asian American Impact Fund Giving Circle.
Ira Briones, Wellness & Safety Chair
Ira is a holistic coach and healer with background in community organizing, nonprofit program management, learning and development, entrepreneurship and inclusive urban data strategies. Prior to immigrating to New York from Metro Manila, Ira worked with communities and organizations in the Philippines and in the Asia-Pacific region on sexual and gender minority issues.
Van Anh, STAR*Fruit Collective
xoài Pham, STAR*Fruit Collective
Malaya Manacop, STAR*Fruit Collective
Jason Wu, Political Co-Chair
Jason has been part of GAPIMNY's Steering Committee since 2015.  He was born and raised in NY and previously lived in  Los Angeles.  He currently works in civil legal services fighting gentrification and displacement of low income communities of color, and is an active member of his union.  He is excited to organize with GAPIMNY members towards collective liberation.
Bruce Wang, Social Co-Chair
Alphonse Tam, Social Co-Chair
Alphonse joined GAPIMNY in 2019. He is passionate about urban and community development and has spent his academic/professional life studying and supporting nonprofits and startups that aim to improve the lives of low-income communities and communities of color. He enjoys a good book, a good meal, and a good workout.
Johanes Atmaja, Finance & Fundraising Chair
Johanes Atmaja has been part of GAPIMNY's Steering Committee since 2018. He was born in Indonesia  and moved to New York in 2007. He is passionate about ensuring a safe and secure space for fellow queer immigrants in NYC and beyond. He loves to eat out, read manga and travel. His favorite quote is "Pioneering is never done in front of cheerleaders urging on a roaring grandstand of popular approval." George Takei
Binh Hoang, Member-at-Large
Formerly the Finance Chair and Co-Chair,

Binh

is now a Member-at-Large with GAPIMNY.
He's an avid reader, anime enthusiast, and EDM concertgoer. He's still trying to one day become a data scientist Jigglypuff, so if you know a thing or two about Python, R, or statistics, please help him.
Ryan Shen, Member-at-Large
Ryan Shen has served many years in leadership of queer Asian organizations — GAPIMNY, Q-WAVE, and national organization NQAPIA. He's contributed to The Gaysian Diaries in hopes to raise trans Asian visibility and awareness. He is quiet but will become animated when discussing challenges around professional communication, especially related to processes in tech.
Jason Kwong, Member-at-Large
Jason joined the Steering Committee in 2009 and has served as Co-Chair and Health and Communications Chairs. Before moving to New York, he worked with the queer API community at A&PI Wellness Center and Gay Asian Pacific Alliance (GAPA) in San Francisco, CA. He works in public health conducting health care research and policy. He has been helping organize Poongmul Movement Builders, a queer API Korean drumming group, since 2012. He is also a part of Asian American Impact Fund, a New York giving circle. During the summer, you can find him around Flushing training with his dragon boat team.
Patrick Lee, Member-at-Large
Patrick is a queer Korean American filmmaker and journalist. He's currently working on films about Asian American coming out stories, LGBTQ self-representation, and queer Asian history. He also works with the National Queer Asian Pacific Islander Alliance and helps produce a monthly pan-Asian drag show in New York. Patrick's favorite snack is peanut butter.